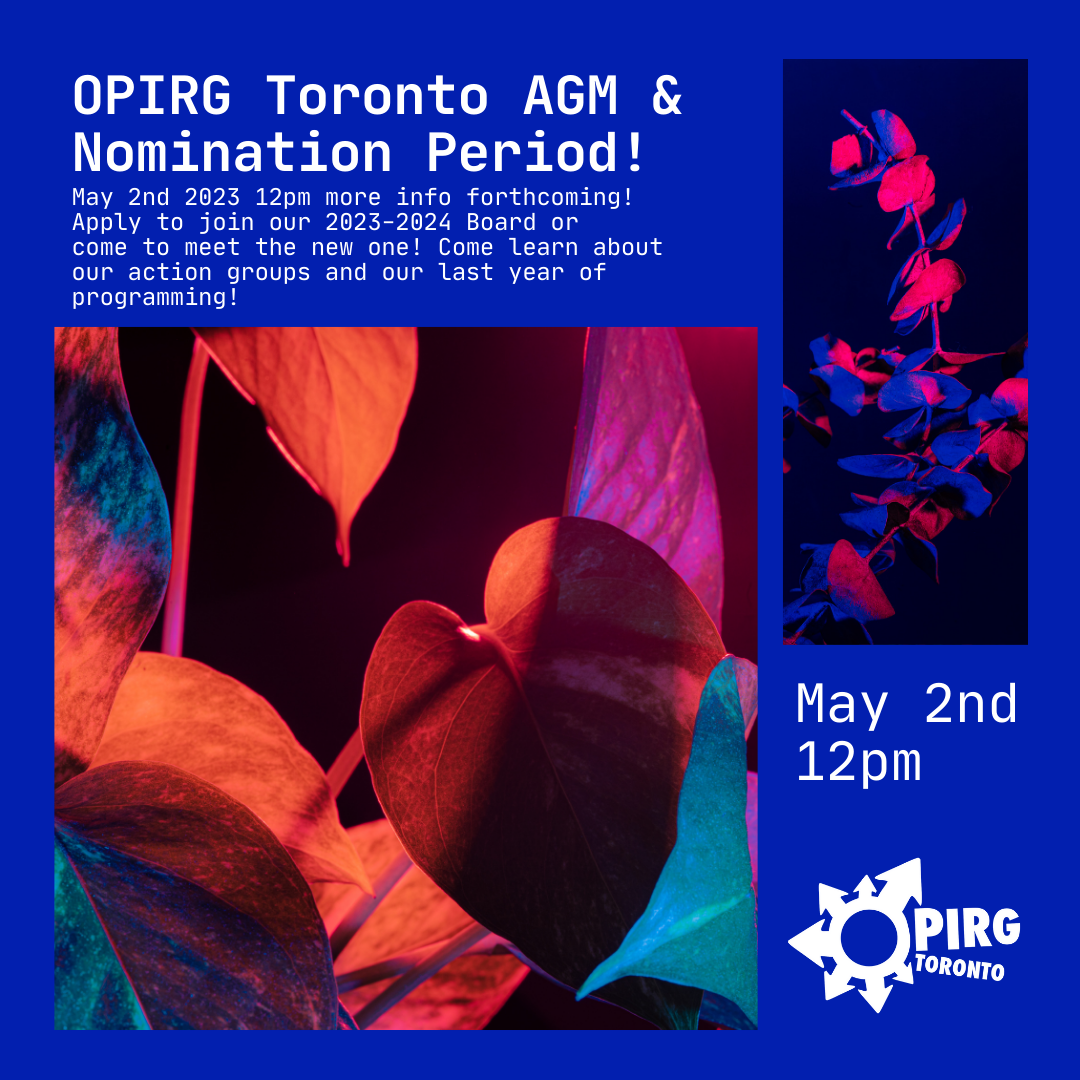 2023 Annual General Meeting
Summary
The OPIRG Toronto AGM is happening May 2nd at 12pm
Come get to know us and find out about the amazing work OPIRG and our Action Groups have accomplished this past year.
OPIRG Toronto is hosting its 2023 AGMM May 2nd.
Location and online platform TBA!
Come find out about the awesome work OPIRG and our Action Groups have been up to this year and our upcoming campaigns and events and how you can get involved this year!
Please note that you must be a member to attend the AGM or run for the Board. This means that you haven't opted out of the OPIRG levy as a Graduate or Undergraduate student or that you have paid a membership fee as a community member. Please be prepared to provide proof of membership and ID if you are planning to attend the AGM and/or to the CRO if you are applying to be on the Board.
This also means our Board nomination period is now also open! Our nomination period runs from April 3rd – April 23rd 2023. OPIRG Toronto is an intersectional feminist, anti-imperialist environmental, LGBTQIA and social justice organization. We could go on, but thats already a mouthful isn't it? If youare interested in social and environmental justice and want to join the Board check out below for more details!
Interested in Joining the Board?
When: The nomination period is open from Monday, April 3 @ 6 PM – Sunday, April 23rd @ 7 PM. Election of the Board is during the AGM.
Who: Any OPIRG-Toronto member can run! Members are any of the following who did not retain a refund for their membership fee:
Graduate students at all three campuses
Full-time & part-time Undergraduate students at St.George campus
University of Toronto alumni, faculty and staff that have paid a membership fee as outlined by the Board
How: Email Christeen the CRO opirgtorontocro[at]gmail.com for the nomination package.
Why:
Hone and develop your community organizing skills!
Connect with campus and community struggles for social and environmental justice from around the province!
Network with other PIRGs across the province and Community Groups!
Help develop new programming and campaigns
Learn about union, labour and management practices in a social justice oriented non profit
Shape OPIRG Toronto's 2023-2024 vision!
Please email opirg.toronto[at]gmail.com to request accommodations for accessibility needs, or if you have any additional questions.
We look forward to seeing you there!