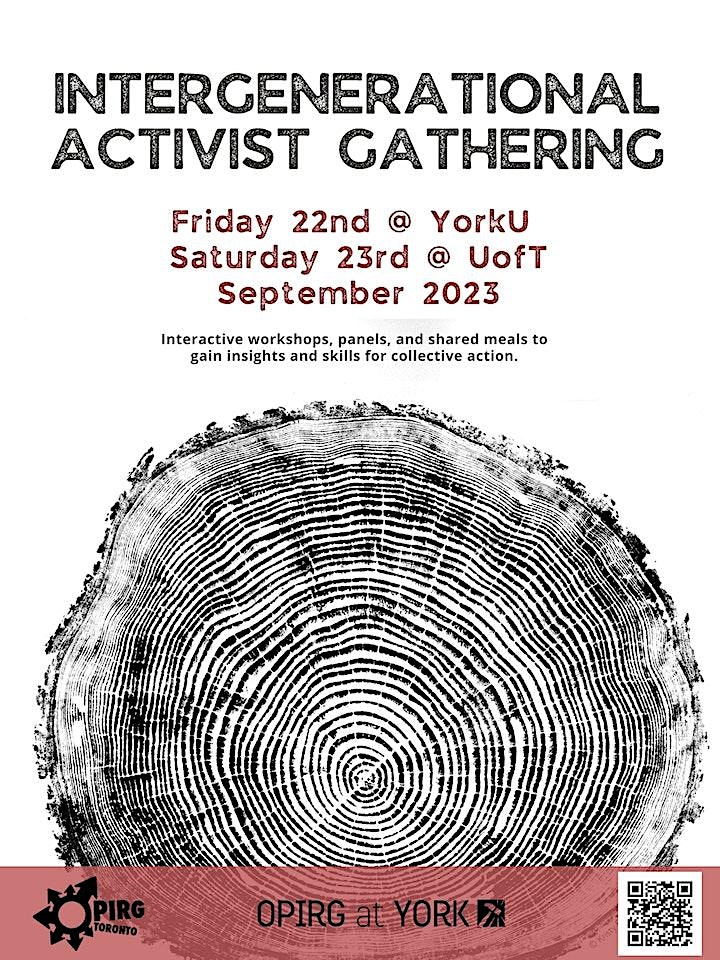 Intergenerational Activist Gathering – Day 2 (University of Toronto)
Summary
The Intergenerational Activist Gathering aims to bridge the gap that so often exists between student activism and community activism.
SEPTEMBER 23 @ 9:00 AM – 9:00 PM
Intergenerational Activist Gathering: Rooting our Activism in the Big Picture & Organizing Across Generations
Friday, September 22, 9 am – 9 pm at York University
Saturday, September 23, 9 am – 9pm at the University of Toronto
FREE ADMISSION – MEALS PROVIDED – ALL ARE WELCOME
***This event is aimed at University of Toronto & York students, new and experienced activists city-wide, and anyone with an interest in social & environmental justice***
OPIRG Toronto and OPIRG York are teaming up to host a gathering focused on grounding our activism in the big picture, and organizing across generations. Through this Intergenerational Activist Gathering we aim to bridge the gap that so often exists between student activism and community activism taking place throughout the city. This event will include two full days of participatory learning, sharing and relationship building, and will kick off our annual DisOrientation Week.
DisOrientation Week is an alternative Frosh Week to get students interested and involved in campus-based social justice work. This year's DisOrientation celebrates the environmental and social justice gains made by student and community organizers. It is dedicated to sharing activist knowledge & resources, and building capacity for organizers new to York University and University of Toronto and activists across the city.***
SATURDAY, SEPTEMBER 23rd – UNIVERSITY OF TORONTO, ST. GEORGE CAMPUS- 230 College Street (Entrance on Huron) – 5th Floor
***The space is accessible by wheelchair and electric scooter, including washrooms***
9 am – 10am: Breakfast and Welcome
Coffee, tea, muffins, bagels, fruit & more (meat, vegetarian, vegan & gluten free options will be available)
10 am – 1 pm: Panel Discussion – Intergenerational Perspectives on Lessons Learned & Organizing in the Current Moment
Panelists from Climate Justice U of T, Ontario Coalition Against Poverty, No One is Illegal & more will address important questions like:
What is something you wish you'd known when you were starting out?
Can you identify something you/your organization has done that younow consider a strategic error? How did you handle it? What would you/will you do to avoid similar decisions moving forward?
How did/do you deal with the challenge of building strong relationships and communities of care versus the sense of urgency we feel around achieving our campaign or movement goals? How has this impacted the long term sustainability of your organizations/movements?
Moderator: sam riot is an anti-poverty and housing advocate, who is actively involved in St James Town. sam is delighted to be part of OPIRG's disorientation weekend and believes knowledge and experience sharing tobe a critical part of movement building.
1 pm – 2 pm: Lunch & Tabling Fair
Warm lunch (meat, vegetarian, vegan & gluten free options will be available)
Groups including No One is Illegal, the Toronto Seed Library & more will be present to share information and seeds
2 pm – 5 pm: Interactive Activist Skills Training Workshops
Workshop Option 1: Where do I begin? Preparing for and Attending Demonstrations and Direct Actions
Learn & share guidance around what to wear, what to bring/leave at home, how to keep you and your friends safe, what happens if you encounter police presence & more
Facilitator TBA
Workshop Option 2: What's next? Organizing Successful Demonstrations & Direct Actions
Explore what direct action is and how it can be employed within a demonstration you're attending or have organized. Discuss practical tactics and strategies commonly used, challenge yourself to think beyond colonial state narratives around resistance, learn tools for dealing with police violence, and gain concrete, hands-on skills and knowledge around blockades and locking down.
Facilitator: Trish has 12 years experience as a street medic and organizer in Toronto and Hamilton. They have a particular passion for defending the land & water and have been criminalized for it, but can often be found using those experiences to initiate empowered discussions around power, fear, courage, and resilience.
5 pm – 9 pm: Dinner & Social featuring dj deLish
Full dinner (meat, vegetarian, vegan & gluten free options will be available)
deLish aka LiChelle has spent nearly 13 years rooted in a life of community and celebration in the Toronto underground music & activist scenes. deLish curates techno, house, and drum & bass selections that inspire play, with bass lines that will make you drop in deep. LiChelle is an accomplished visual artist and graphic designer. She advocates for police and prison abolition, and works in street outreach.
IMPORTANT NOTE: OPIRG Toronto is dedicated to a disability rights-informed approach to health and safety. We will have two hepa-filters in the event space. Folks will be asked to keep distance as much as possible, to sanitize hands, and to mask when not eating. Masking exemptions will be made for health & human rights reasons.
IN-PERSON HEALTH & SAFETY POLICY
If you have any questions or concerns please email us at: coordinatoropirgto@gmail.com.