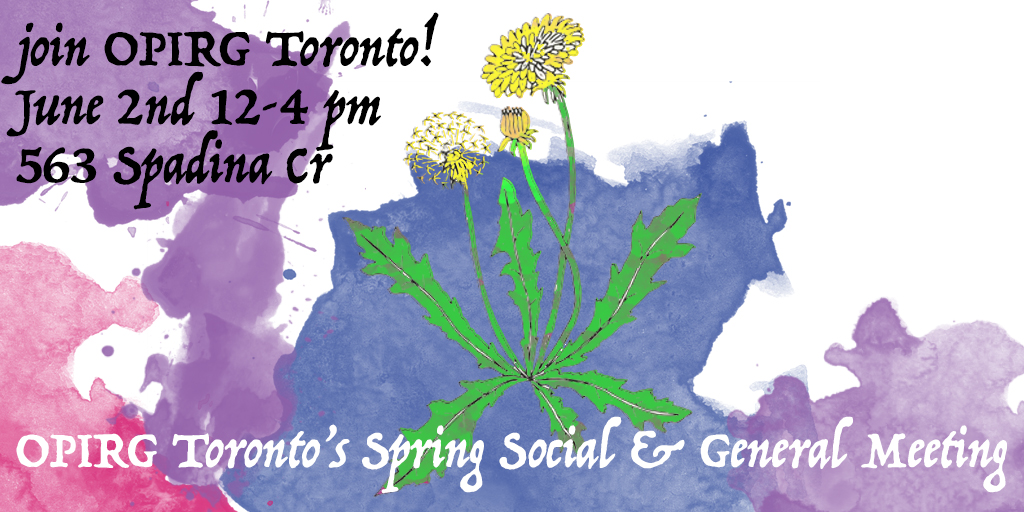 OPIRG Toronto Spring Social and General Meeting!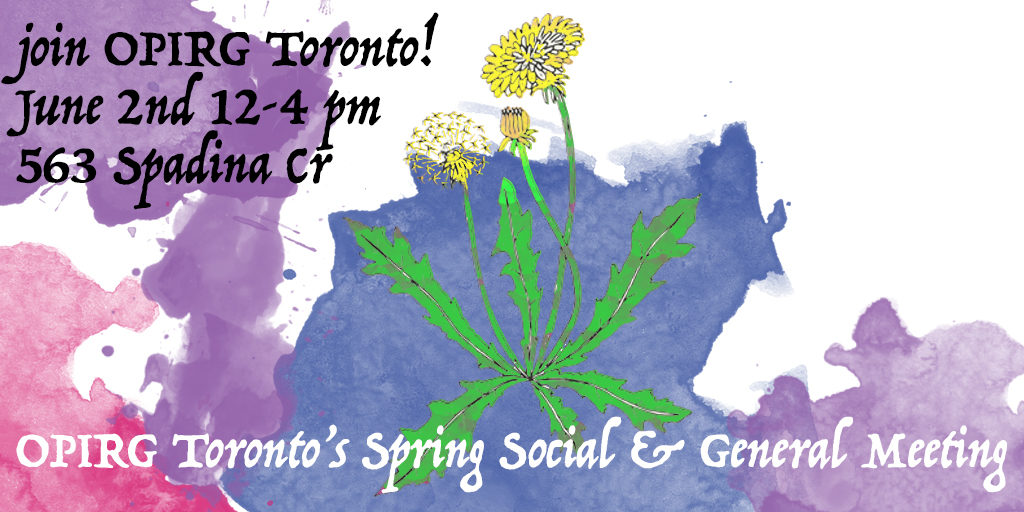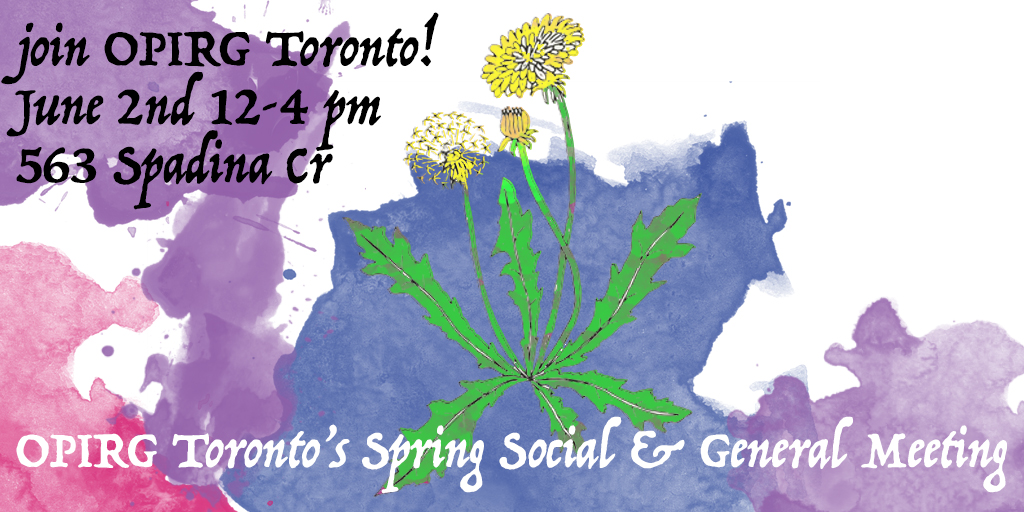 Come join us for a relaxed friendly afternoon general membership meeting where we will look back at everything we've accomplished over the last year, appoint a new Board of Directors and share a delicious meal.

Facebook Event Page

ACCESS INFO:
Food and TTC Tokens will be provided. Vegan, gluten free and Halal/Kosher options will be available. Please contact us if you have specific dietary restrictions
This event is being held in an accessible space. The Centre for Women and Trans People UofT is located in the same building as OPIRG Toronto, there is an accessible entrance at the rear of the building off of Bancroft Ave. There are accessible single stall gender neutral washrooms on the first and second floors
If you require ASL interpretation, childminding or other access needs please contact Rachele at racheleopirgto(at)gmail.com or Joanna at opirg.toronto(at)gmail.com by May 14th
WHAT IS OPIRG?
OPIRG Toronto is an intersectional social and environmental justice non-profit, we are a volunteer-based group with a mandate for action, education, and research on environmental and social justice issues. We are part of an international network of Public Interest Research Groups (PIRG's), including eleven others in Ontario.
We are an organization driven by the communities that we serve. We work to centre 2SLGBTQ, BIPOC, migrant, Muslim, Disabled and Non-Binary communities in every aspect of our group from programming to governance. OPIRG is made up of Grads and Undergrads at UofT and members of the broader community. We seek to empower and educate students and community members, provide a forum for learning and sharing skills, and give people the tools and opportunity to work cooperatively for social justice. We do this by providing workshops, publishing opportunities, social and environmental justice advocacy and educational based events such as panels and round tables, research opportunities and through action groups
INFO FOR 2019-2020 BOARD
OPIRG Toronto is led and staffed by the communities we serve. We work to centre 2SLGBTQ, BIPOC, migrant, Muslim, Disabled and Non-Binary communities and strongly encourage members from these communities to consider running for the Board.
Board members are expected to attend bi-weekly meetings and assist in the operations of the organization. This totals to 2 hours work per week on average depending on the Board size. Board members must have a good understanding of anti-oppression and adhere to OPIRG's mandate.
This year we hope to focus on recruiting Board members with the following skills and experience:

Skills
-Fundraising
-Grassroots publishing
-Non-hierarchical research
-Campaigning
-Social justice archiving

Experience
-Indigenous sovereignty and/or solidarity work
-Experience working in overdose prevention settings and experience working in harm reduction
-Reproductive justice

If you are interested in social and environmental justice work you can pick up and/or submit a nomination form to run for a position on the Board of Directors for the 2019 – 2020 year at 563 Spadina Crescent unit 101 between May 2nd – 23rd. For questions or to submit your nomination form online please contact our CRO Sarom Rho at: opirgtorontocro(at)gmail.com